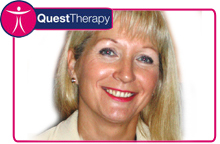 Jackie O'Donnell is a well known and much respected clinical hypnotherapist in Manchester and has been in practice since September 1996. Having been involved in personal development training, fitness, nutrition and weight loss for over 20 years becoming a hypnotherapist was a natural progression.
Jackie qualified as a Clinical Hypnotherapist with the London College of Clinical Hypnotherapy and has attended many of their Master Classes to keep her skills up to date and keep abreast of new ideas or techniques. She is a full member of the British Society for Clinical Hypnotherapy and follows their Code of Conduct and Ethics.  She is also a member of The Complementary and Natural Healthcare Council.
Using a combination of hypnotherapy, Cognitive Behavioral Therapy and Neuro Linguistic Programming, Jackie seeks to help her clients make positive changes and enhance their lives.
Prior to giving hypnotherapy to a client, Jackie takes time to explain hypnotherapy in detail, and answers any questions or concerns her clients may have.
In the majority of situations she focuses on goal oriented hypnotherapy which is generally very quick therapy. To help speed the therapy further Jackie sends all her clients a form which is relevant to their particular concern that they fill in and bring along to their appointment. This enables them to provide in-depth details and a history of their concern as well as their objectives in the comfortable and familiar surroundings of their own home, so that when they arrive they are generally more relaxed and ready for their therapy than they would be if they had had to focus on their problem and provide their history at the appointment. Also less time is needed on paperwork and for information gathering and the majority of the appointment is spent on therapy.
Jackie also provides a recording of the therapy she gives each client for them to use at home to further speed up the benefits of hypnotherapy plus it enables them to feel more in control and involved in their success.
Even after more than 23 years, and having proudly passed the ten thousandth client some years ago, she still experiences a great sense of satisfaction and pleasure at the results clients can achieve through hypnotherapy.
"It can literally transform lives, whether it is living longer and healthier because of stopping smoking or overcoming a phobia of flying and being able to travel anywhere."
British Society of Clinical Hypnotherapy
The BSCH is a national professional body whose aim is to promote and assure high standards in the practice of hypnotherapy. Registration demands good quality training, ethical practice and adherence to their code of conduct.
Their ongoing efforts to establish essential regulation within the field of clinical hypnotherapy takes many forms. From petitioning the House of Commons, communication with the Department of Health, supporting the efforts of the Foundation for Integrated Health (Prince's Trust) and maintaining a public help line. Link to www.bsch.org.uk.