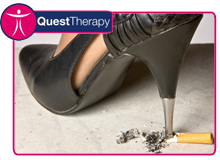 Using hypnotherapy to stop smoking is recognized as one of the easiest and quickest ways of becoming a non-smoker. It helps you to develop the right mind-set to be able to overcome and beat the habits, withdrawal symptoms and the cravings of smoking, generally in only one session. Not only is it quicker and easier than other methods, it is generally much more pleasant for you and those around you.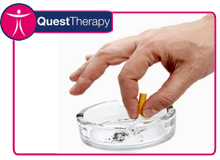 Prior to your appointment you will be sent and asked to complete a Smoking Cessation Form. This provides information on:-
Identifying the times, places and situations that trigger you to have a cigarette.
What you consider will be the main benefits of stopping smoking.
If you have stopped and relapsed previously, information on what triggered you to start smoking again.
As everyone is an individual, this information enables individual, detailed and fully personalized therapy to be given. Many clients have advised that the process of completing the form has helped them become more motivated than ever to quit.
The following are often concerns when considering stopping smoking:-
Putting on weight
Being stressed/bad tempered
Excessive withdrawal symptoms/cravings
Remaining a non-smoker in the future
All of these areas can be incorporated in the hypnosis to reduce and, in many cases, eliminate these concerns altogether.
Generally one session is all that is needed. However, if you are stressed due to major life changes such as separation/divorce, bereavement, monetary problems, moving home etc. I recommend having a session for relaxation and stress reduction prior to stopping smoking. This will provide you with a positive and relaxing alternative to smoking in the form of a recording which you can use for a week or so before your smoking cessation appointment and after to relax and reduce stress at any time.
10 essential steps for preparing to quit smoking
Make sure you are stopping because YOU want to. Ideally for your health or to be free of the dependency, smell etc. Other factors such as a new baby in the family, new home, finances etc. can be part of it, but first and foremost it has to be for yourself.
Arrange to avoid situations you know will prove difficult for 7 days after your therapy, such as the pub, the smoke room at work and social events that usually involve drinking and smoking.
Ensure you really do want to stop smoking and come to your appointment with an open-mind. A desire to succeed is essential as well as a willingness to work with it.
Decide which day you want to become a non-smoker and book your appointment in advance. This allows you time to plan and get used to the idea of becoming a non-smoker. Once you have a date, mentally begin to tell yourself that that is the day you become a non-smoker.
Prior to your appointment, complete the Smoking Cessation Form.
In the days leading up to your appointment prepare to stop by telling family and friends, this increases your commitment and enables you to obtain their support.
Begin to get rid of the odour of smoking; buy a new toothbrush, clean the inside of your car; especially the ashtray, wash clothes/curtains etc.
On the day, you are now ready to stop, you can smoke right up to your appointment if you wish, however, at your appointment, you must snap your cigarettes in half and throw them away along with your lighter, be committed.
Be prepared to do your part. You will be provided with a recording of your personalized hypnotherapy, which I recommend you play once a day for the first 7 days after your therapy, this will enhance your therapy and help reduce/eliminate stress and mood swings.
If you are particularly stressed or down at the moment, you must advise me, as I recommend you have a session for relaxation and managing stress prior to your Smoking Cessation session.